Self-esteem develops between the ages of 8 and 14.  Girls who emerge from early adolescence with low self-esteem have little chance to alter it until they are about 30, psychologists have found.
The ChatterGirls program uses proven methods to help young girls develop positive self-esteem and self-worth.
ChatterGirls is FUN!  In additional to the wonderful things they learn, each girl also receives a goodie bag of fun items.

(pictured below)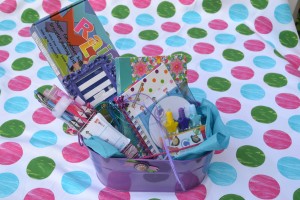 Every program consists of five fun sessions that focus on a specific topic to teach tools to change the negative chatter in the immediate and long-term.
Unique to the ChatterGirls program, every participant takes home audio downloads of what they have learned. These become an invaluable resource as girls go through daily struggles and triumphs.
A portion of all ChatterGirls proceeds goes to other programs that support positive development of young girls, including Girls On The Run, Girl Scouts and others local organizations. We also provide scholarships to girls who would like to attend but are unable to cover the costs.